Fishing Charters, Salmon Fishing
It's about you and your day fishing, having fun, building friendships, making life long memories
Seattle Fishing Charter Directions
Make sure you have the correct departure location for your charter
Shilshole Bay Marina
7750 Seaview Ave NW Seattle, WA 98117
Pier T, (All Star Charters sign on side of boat)
We'll Meet you at the T- U Gate at the agreed check in time.
Seattle departures only
TO GET HERE:
From Interstate 5 take N 85th ST exit. ( exit #172 is 5 1/2 miles north of Downtown Seattle, 3.5 miles north of hwy 520 and 7 miles north of Interstate 90))
Head West on 85th. ( The off ramp will send you west, do not take 80th )
Stay on 85th 3.2 miles thru all the lights until it ends at a stop sign at 32nd Ave NW.
Directly across the street is a green sign (Golden Gardens – Shilshole Marina)
Take this winding road to the right and follow it down the hill thru the park under the railroad tracks to the stop sign.
After going under the tracks take a left at the stop sign onto Seaview Ave NW
Go about 2 blocks south past the public boat launch and the little Coney burger stand, take a right into Shilshole Marina you are looking for pier T-U identified by Orange letters on tall posts over the gates.
The Piers are lettered "A" through "W" and you are going to "T-U" pier near the north end of the marina
Find a place to park that is NOT A RESERVED SPOT (if it says PARKING PERMIT REQUIRED on the space then do not park there). Parking is Free in all other spaces! You may also park on the street for free if the lots general parking is full.
Wait at the gate to pier T, we will see you and come let you in at the agreed check in time there is no need to call us or make loud noises as there are liveaboards and we want to respect them
The captain will meet you at the agreed check in time and let you in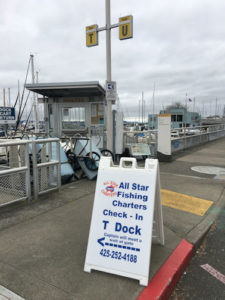 If You have any trouble finding it or if you think you'll be more than 5 minutes late please call the Captain on his cell phone Gary at (425) 422-4800 or Nick at (425) 327-2421
Alternate from Downtown
These maps are North of Downtown
A to B represents Interstate 5 to our dock
From downtown you may take Northbound Hwy 99 or Western/Elliott/15th Ave W
To take 99 from downtown go North on 4th (it's one way) and 1 mile N of Pike go right onto Battery St.
When taking 99 North from downtown stay on 99 and go left onto 85th
These are the routes taxi cabs should take.